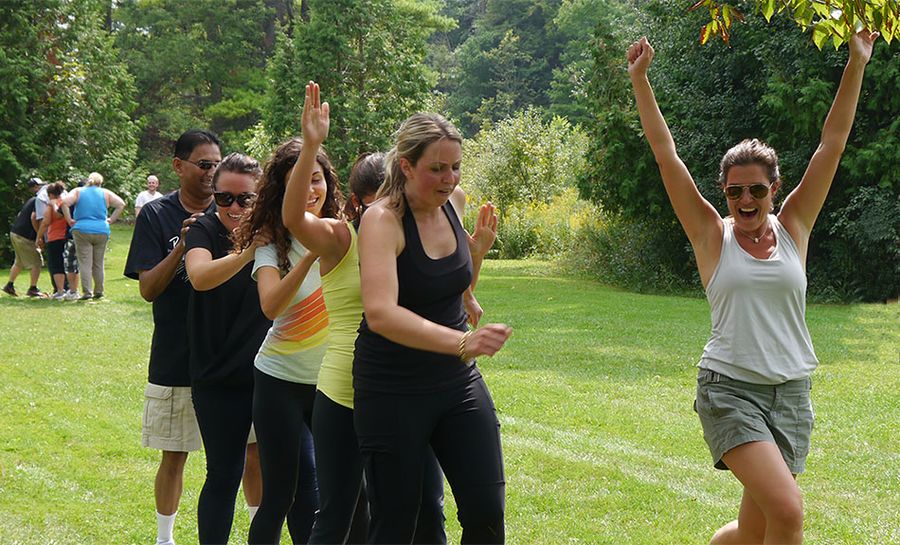 PLAN AN EXCITING COMPANY PICNIC OR BBQ IN Davie
If you're planning a corporate picnic or BBQ event, then you're going to need three main things: food, drinks, and entertainment!
Picnic Party Games is the perfect group activity for any outdoor social or work event. It challenges participants to compete in outrageous challenges as they try to earn points in a race against the clock. It's a fun and exciting experience that is designed for public parks and picnic areas in Davie.
This is a self-hosted activity that you can run yourself, without having to bring in a professional event coordinator. Don't worry though… you won't be on your own! Our support team is always just a phone call away, and our smartphone app will automatically keep track of all the challenges, submissions, and point scores on your event day.
Picnic Party Games will help participants:
Learn to strategize and problem solve as a group
Hone their teamwork and time management skills
Have even more fun at your company picnic or BBQ
Encourage socializing and mingling
How it Works
There are three stages to Picnic Party Games:
Stage One: To get set up, your group will need to download the smartphone app, and split into teams, pairs, or individuals.
Stage Two: Time to start the party! Complete as many photo and video challenges as possible using the smartphone app to earn points and move up the leaderboard.
Stage Three: You can turn it into a competition to see who can complete the most challenges before time runs out, or just play to have fun!
Sample Challenges
Catapulting Cuisine – Video Challenge (50 Points)
Use a spoon to catapult a bite-sized food item to another person from 10 feet away. Record a five-second video of them successfully catching it in their mouth! Select "retake" if you need to try again.

Sculpting Nature – Photo Challenge (50 Points)
Collect stones, shells, small sticks, or other items to make your very own free-standing natural sculpture that stands at least 12 inches tall. Snap a photo with your creation.

Draw a Line in the Sand – Video Challenge (60 Points)
Collect a rope, towel, blanket, or whatever is available and stage a tug of war match with another group of people. Record a five-second video of your battle for victory.
Picnic party games is available anywhere, in any time frame, for any group size
One of the coolest benefits of this event is it can be run anywhere! This is perfect for companies with offices spread out across the country or even around the world. Wherever people are participating, we recommend you finish with some post-event storytelling and winner recognition.
This activity is completely flexible when it comes to time and place. Looking for something fun to do in a compressed timeframe, like a lunch hour or conference break? We can make that work too.
And yes, like almost all our team building activities, this event is completely scalable for large groups of any size.
Request More Information
Your investment includes:
The Picnic Party Games activity
A password-protected smartphone app, made private for your group
Access to the live leaderboard and activity stream
Full, personal instructions for you and your team
The option to add on custom challenges
Request More Information
Key Facts
Activity Level : Non-Active
Competition Level : Competitive
Desired Outcome : Fun
Investment Level : Hosted ($35 – $260pp), Self-Hosted ($11 – $44pp)
How much does this event cost?
Self-Guided Smartphone Powered Events
If you would like to run this activity yourself, pricing for the majority of groups we work with ranges from $11 to $44 per person, with a minimum spend of $250. For larger groups we'll be as flexible as possible to work within your budget. For smaller groups we do not have a minimum total investment level. Pricing does not include any venue or location rental fees.
Express Smartphone Powered Events
If you need a quick shot of team building that will inject energy and fun into a short amount of time, the express version of this activity may be a good option for you. At just $7 to $27 per person, with a minimum spend of $150, as express activities come with fewer challenges and a recommended timeframe of one hour or less. There is no minimum investment, and for larger groups we'll be as flexible as possible to work within your budget. Pricing does not include any venue or location rental fees.
Contact us for a fast and personalized proposal that addresses your program specifics, group dynamics, objectives and budget.
Reviews for Picnic Party Games
" Everyone loved the challenges. Easy-to-use app, fun event, great price, and great communication from your team. 10/10! "

– CS Partners
" WE HAD A GREAT TIME! It's all we're hearing about around the office. On behalf of the Lucasfilm Business Affairs Department, we all want to THANK YOU AND YOUR ENTIRE STAFF for the fun challenges, smooth experience, and overall great day out of the office."

– Lucasfilm
" Fabulous! Wonderful! Excellent! Everyone had a super time! What a treat it was to have you handle the whole show. It was great to be able to enjoy the day without having to work. WE WILL DO THIS AGAIN! Please book us for the same thing again next year! We're good to go!"

– Stantec
Get the team building activity help you need today!
Contact our team at 1-877-713-7238 to discuss what you're looking for and experience for yourself why people who plan team building activities for the most successful companies in Davie rely on our talented team. Whether you have a large group of 1000 plus, or something much smaller, we can help. And if you require it, all our activities are available in a bilingual format!
Need a detailed proposal right away? That's our specialty.
Part of an independent meeting planning firm? See why a meeting planner partnership with us and our vast array of group activity solutions makes great business sense.
Download Our Guide to Innovative Corporate Team Building Events
Looking for a unique corporate teambuilding event in Davie or group activity your clients will get excited about? Have a look at the team building ideas we provide to successful and emerging companies from around the world. They are all designed to improve morale, increase camaraderie and enhance productivity.
Recent Client Feedback
We thrive on helping our partners achieve their goals through our unique and innovative suite of corporate team building events and group activities. Feedback like this is what we strive for every time!